Asóka Vardhana, 304 a. C. – 232 a. C., fue el tercer emperador maurya.
Aśoka reinó sobre la mayor parte del subcontinente indio, del actual Afganistán hasta Bengala y también hacia el sur, hasta la actual Mysore. Está considerado el fundador de la India. Era hijo del rey Bindusara.
La fuente de la mayoría de nuestros conocimientos sobre Aśoka son las numerosas inscripciones que hizo grabar en pilares y rocas por todo su imperio, mayoritariamente en idioma magadhi (una lengua prácrita) en escritura brahmi (y a veces en caracteres kharosthi), pero también en griego y en arameo.
Además de que estas inscripciones representan las primeras muestras de la notación escrita de una lengua india y que esta misma escritura originó todas las lenguas semisilábicas presentes actualmente en suelo indio (como la escritura devánagari), favorecieron la propagación de la ética budista y fomentaron la no violencia y la adhesión a la doctrina del dharma, el deber o comportamiento justo. Se observa también la importancia dada a una lengua vulgar y vernácula, el prácrito, en detrimento de la lengua «noble» y literaria, el sánscrito, demostrando así una preocupación por ser comprendido por el pueblo.
H.G. Wells (1866–1946).  A Short History of the World.  1922.
XXIX.  King Asóka
He organized a great digging of wells in India and the planting of trees for shade. He founded hospitals and public gardens and gardens for the growing of medicinal herbs. He created a ministry for the care of the aborigines and subject races of India. He made provision for the education of women. He made vast benefactions to the Buddhist teaching orders…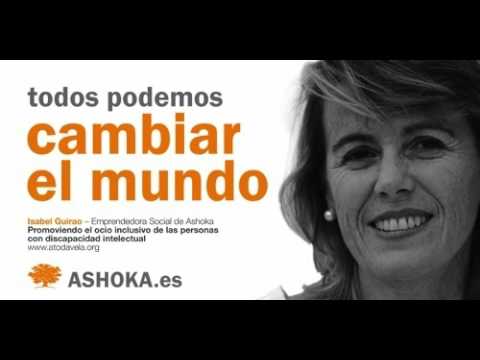 Bill Drayton, "godfather of social entrepreneurship" , fundador de Ashoka, ganador del Premio Príncipe de Asturias de Cooperación Internacional.
Social entrepreneurs can post their project information on the Changemakers.com  Ashoka website. Any visitor to the website can view these projects and registered users can communicate with participants to help refine and improve their project up until the competition deadline. The website also serves as a library resource for social entrepreneurs, with information on a variety of topics such as aging, health, and rural development.

\"Porque de otra cosa no sabré, pero de esto… tampoco\".